Hedgehogs Class
We are a Reception class. Mrs Hardie and Mrs Jack are our class teachers and our teaching assistant is Mrs Foster.
'Why do zebras have stripes?'
Hamjambo! Why do zebras have stripes? Where do lions live? It's time to discover amazing Africa and the wild animals that live there. We'll learn where Africa is and what the landscapes, people and wildlife are like across this stunning continent. Who are the Maasai? What is camouflage? Where is the Serengeti? We'll learn about what school is like for African children and compare it to our school. We'll use our imaginations to explore African animals, record animal noises and write our own call and response songs. Using sticks, we'll make African-themed marks in soggy soil, and create an African landscape using sand, rocks, gravel and driftwood. In mathematics, we'll count and estimate animal numbers and in literacy, use labels and captions to identify animal traits. Then we'll get creative, tapping out syllables on drums as we talk and trying our hand at African printing.
Help your child prepare for their project
Africa is awesome! Why not visit your local library together to find out more about this cool continent? You could also curl up on the sofa and watch The Lion King, Tarzan, Born Free or Madagascar. Alternatively, tear up coloured paper and work together to make a vibrant animal collage. Can you include a range of animal markings?
Week 5
Down on the Farm Week 4 and 5
Unfortunately, Mrs Jack was poorly last week so this week's lambing video combines two weeks' worth of activities. Watch the below video to see what has been happening on Farm Brian's farm.
Mrs Jack visits a dairy farm
Last week we looked at where milk comes from, see below to find out what we have been up to. As part of this we looked at milk from Bassingthorpe Milk, and this week Mrs Jack went to visit the dairy farm. Watch the video below to see what she got up to.
Week 4 – My Baby
We have been learning about farm animals and their offspring. We have had a lot of fun playing memory matching games together while learning about foals, kids, chicks and ducklings. We learnt to tell the difference between chicks and ducklings by looking at their beaks.
In the maths area, we created a pictogram to show us which farm animal is the most popular in our class. Some children then chose to write the different animal names on the board with the totals.
We have had a great week learning about 3D shapes too. We have learnt about cuboids, cones, cylinders and spheres. We have worked really hard to pronounce sphere too – it is not easy!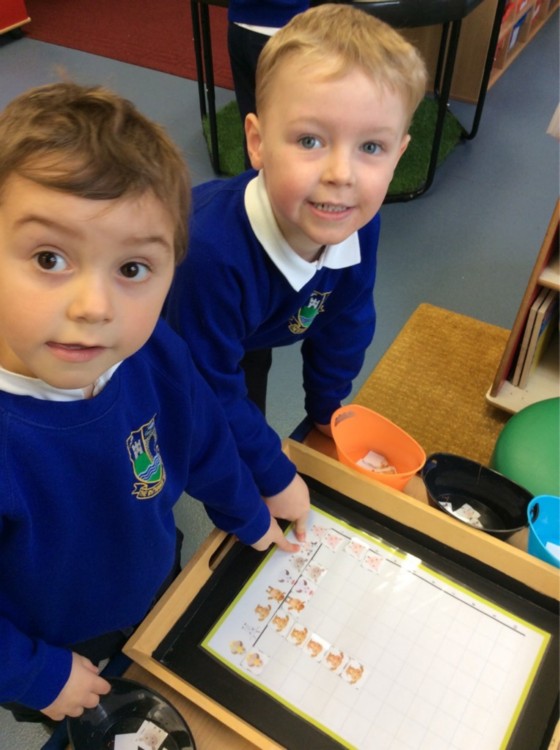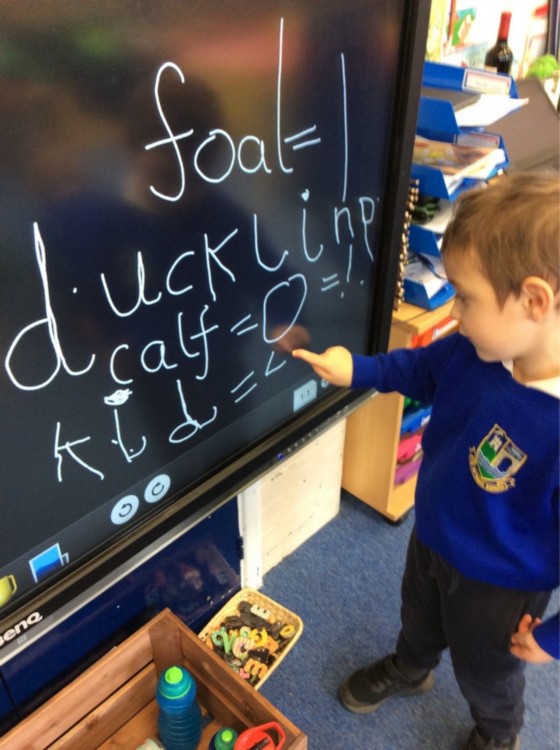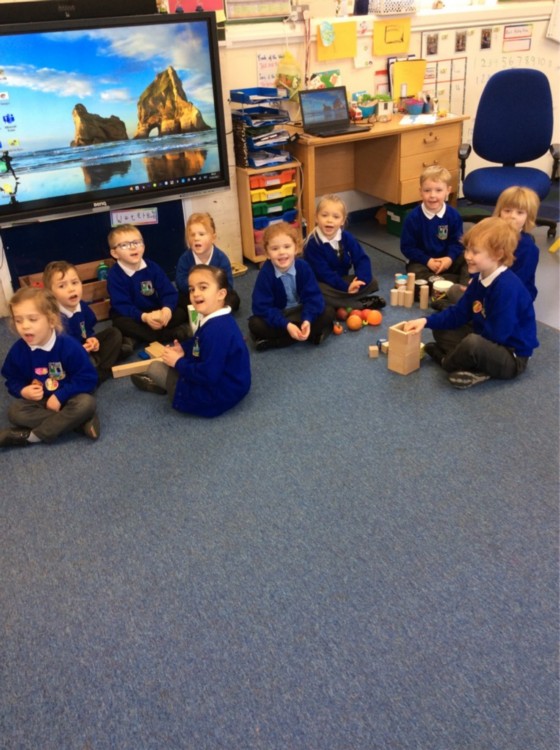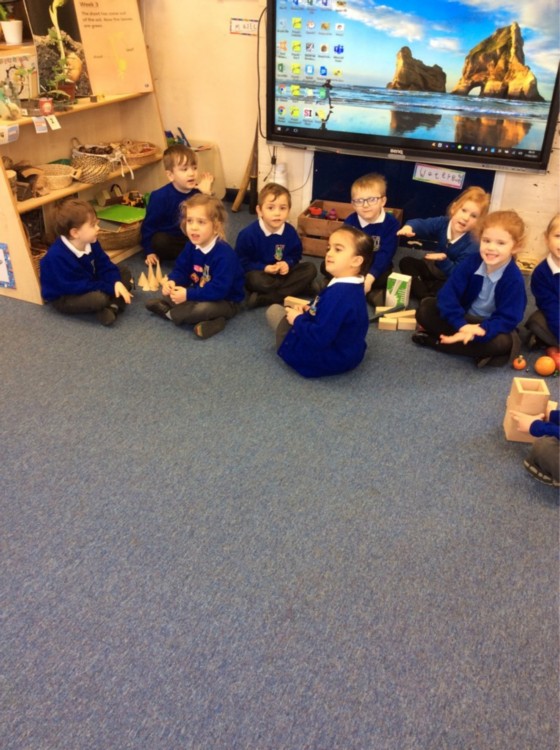 Where does milk come from?
We have been looking and where milk comes from this week. There is a dairy farm next to Farmer Brian's farm which sells milk from a vending machine. We all had it for snack and then taste tested one of the yogurts they sell, they were yummy! Next week Mrs Jack will be videoing this farm so and update of where it exactly comes from will follow!
We had a fun water play set up with milk (paint and water) in rubber gloves with little holes in so children can pretend to milk a cow, they loved this and we got through lots of refills of "milk" throughout the day.
Stuck in the mud
Everyone accessed this tuff spot today at some point during the day, it was a big success, especially the chocolate mud! The children all worked together sharing the tractors and animals, discussing how they are transporting the Weetabix bails around the farm and the animals needing hay and straw.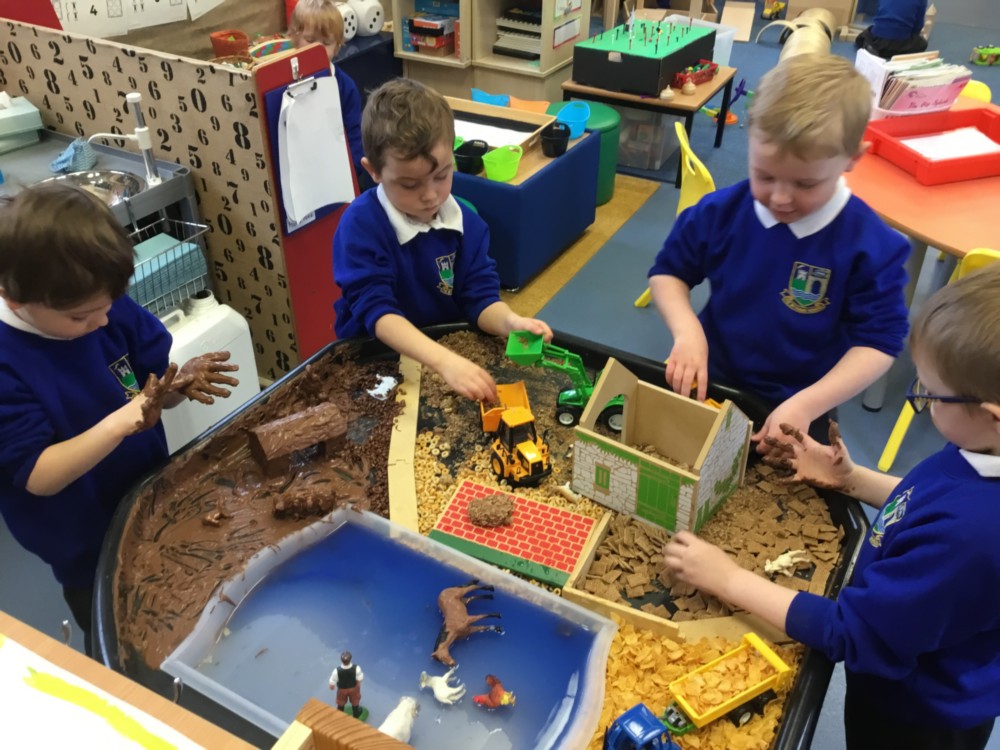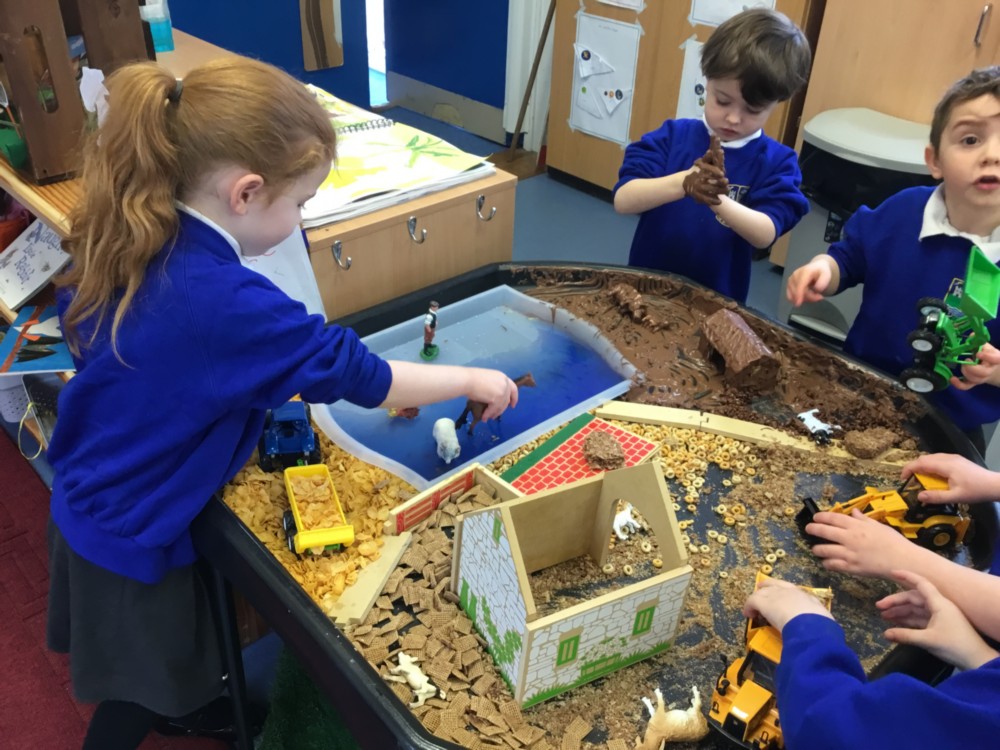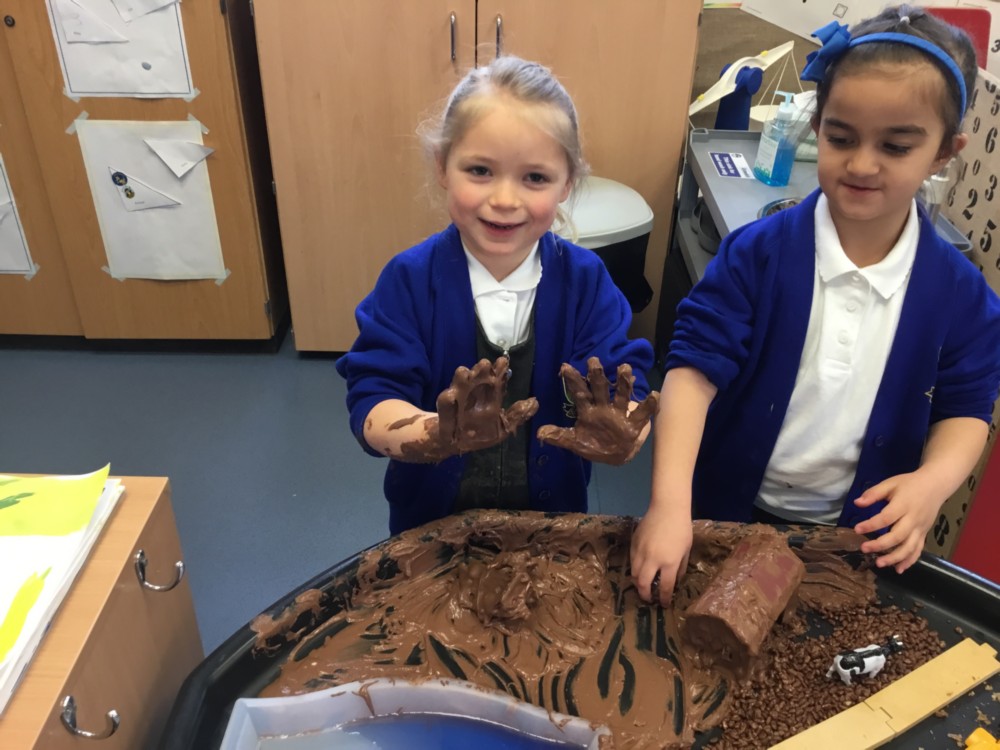 Can you make anything from milk?
We ended the week investigating what everyday products we use which have all come from milk. The previous day we looked a yogurts, and today we talked about cream and butter. We made butter in two different ways. The first way we use a jam jar filled half way with cream and kept shaking it until it turned to butter. Everyone had a turn and we managed to do it! The quicker way to make butter is to put cream in a mixer and mix until the butter separates from the buttermilk. The children were so excited to watch all the changes the cream went through, and felt a sense of achievement when the jar suddenly changed from whipped cream to buttermilk and butter.
We then used milk and food colouring to paint on slices of bread, this made wonderful patterns and really fun toast! Once our decorated bread was toasted, we spread our homemade butter on and then Mrs Foster's homemade plum jam. What a wonderful way to end the week!
As well as investigating how butter is made, we had to investigate where bread comes from. We had the tuff spot filled with wheat and flour which children were able to investigate and play with, the loved the feel of the different textures and soon brought the farm machinery over to dig and scoop all of the wheat. We then ordered how bread is made from field to fork.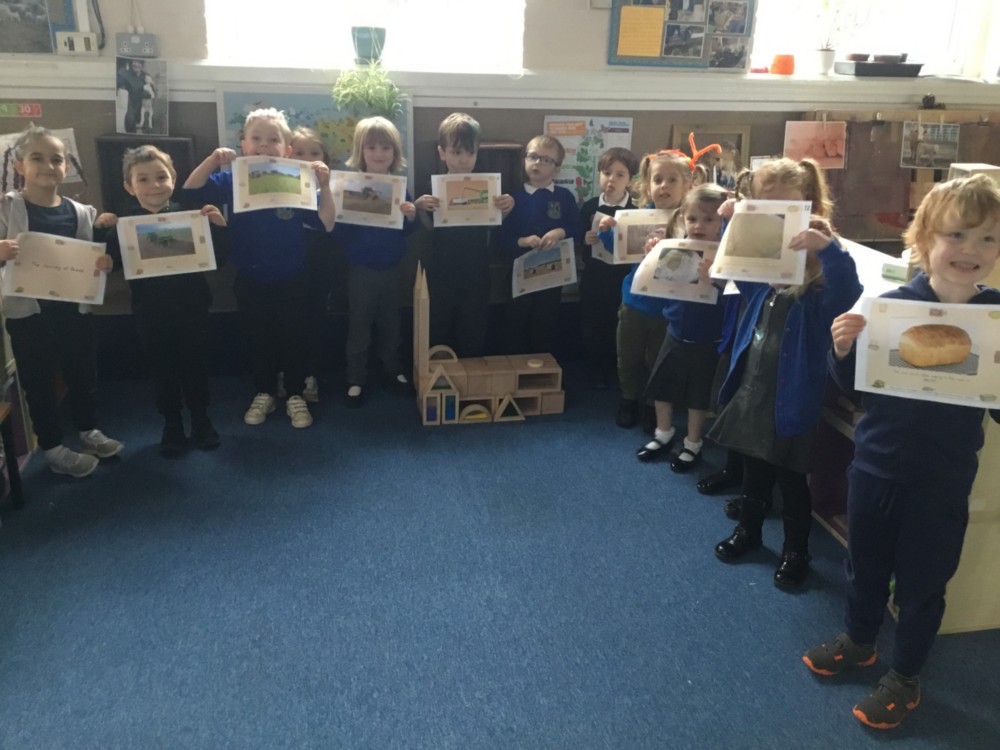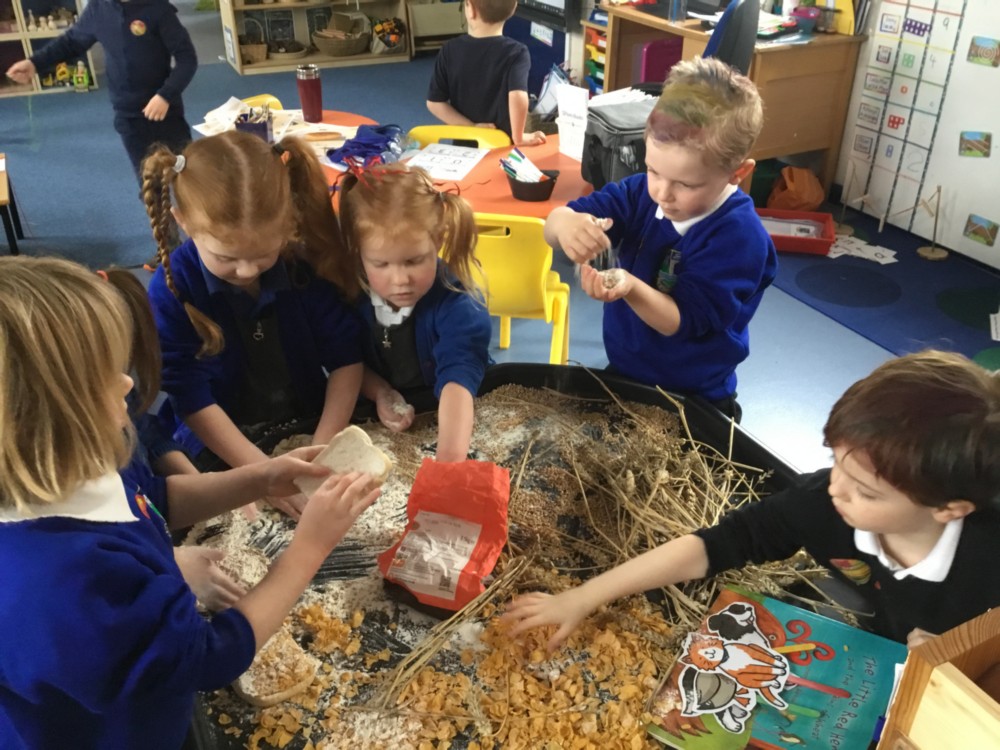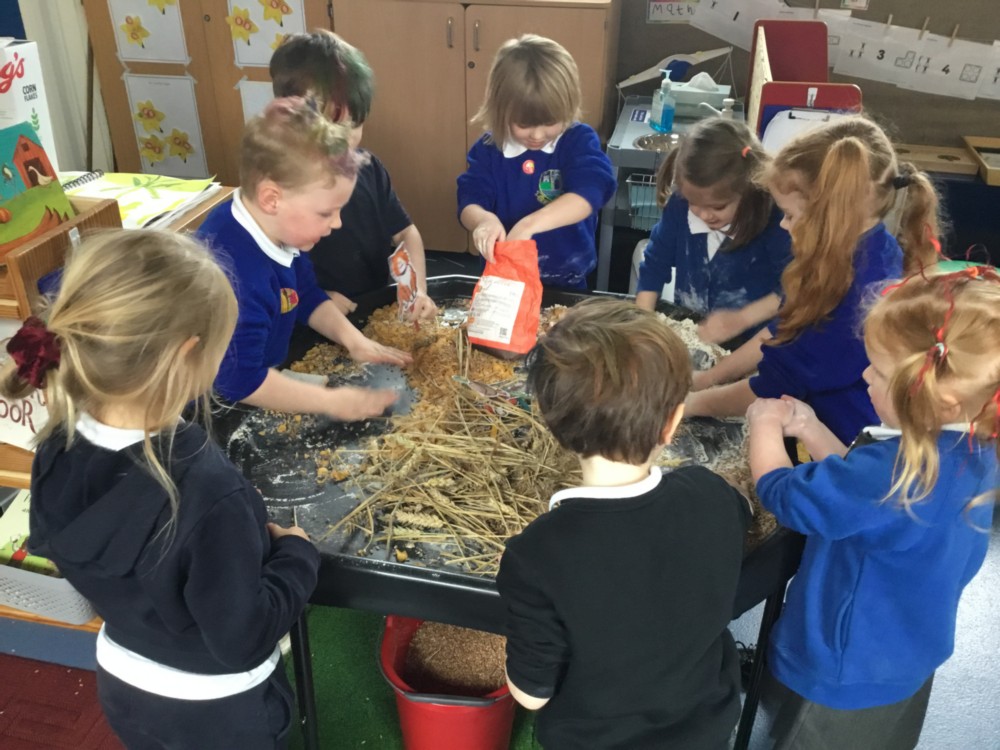 Week 3
Down on the Farm Week 3
This week we are watching Farmer Brain deliver hay, we visit the donkeys and get a sneaky look at 7 new chicks which have been born.
Science Week
We have been looking today at being more sustainable and buying foods locally and in season. We looked at what we can plant in our allotment and what plants need to grow; water, light and nutrients. We compared seeds and looked at how they are all different and then got planting! We planted potatoes, cucumber, sweet peas and observed our broad beans currently growing in the classroom. We will be watering them daily and watching them grow, which will be very exciting when we can finally eat them!
Week 2
Chip-tastic
Do you know where chips come from?
Hedgehogs class have been looking at where our food comes from, and part of this discussion we talked about where chips come from. Some children didn't know, so we decided to make chips in class! The first day we ordered them in the tuff spot, which linked to our maths lessons this week. We even played the game spot the mistake and muddled up the potato number line on purpose so our friends could spot the mistake! We had the balance scales out too and tried to get the potatoes to balance. We then used our cutting skills to chops the potatoes into chips, and then we cooked them in an Acti-fry. We ate them for snack and they tasted yummy!
World Book Day
Unfortunately, we had to have a socially distant World Book Day, however it did not stop us enjoying our favourite books. During the day we all found out favourite book and had a snuggle and a read! We all took a photo of our books so we could at least be together in the photo, if we wasn't able to be in person. We also looked at two books and did a rang of activities on them. These were Postman Bear and Hide and Seek Pig.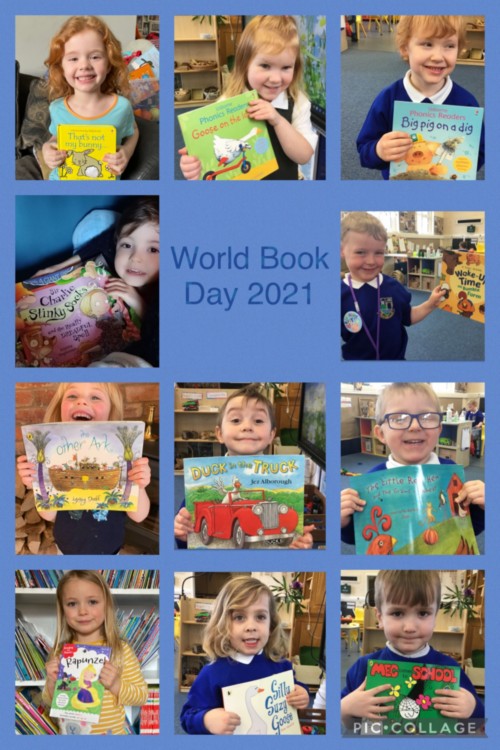 Down on the Farm Week 2
Please view the following video about what is happening on Farmer Brian's farm this week.
We have also been looking at a guest farm this week. Immy's family has an A D plant and arable farm. Watch the below video to see what happens on their farm.
Spring Term Week 1
This week we took our first visit to Great Wood Farm, we will be making weekly virtual visits to the farm as we are currently unable to physically visit a farm. In the first video we get a brief tour of the farm, and they get a little look at the first lambs which were born on the farm.
Hedgehogs Spring Week 6
The theme this week was the Lunar New Year. Children were asked to make traditional paper lanterns, learn about traditional dances and even have a go at making their own dragon head. In school, the children even practised their chopstick skills. There was some lovely writing about how the Lunar calendar was decided too. We learnt all about more and fewer this week. Children used cubes to look at height; playdough snakes ; huge dice were rolled to count on. They ended the week racing a minute-timer to see if they could do 'more' next time. Some were adding more bricks, writing more words, aiming for more star jumps in a minute. Fantastic work everyone! The children in school planted broad bean seeds. We will keep watching them grow and see how many cubes tall they will get.
Have a lovely half term, everyone.
Hedgehogs Spring Week 5
Maths learning has moved on from counting 6, 7 and 8. Children have been practising comparing, pairing and counting on. We have seen a really big improvement in writing since we started using the Red Ditty Books. There is clear handwriting and children are working hard to hold a sentence in their head. For topic lessons, the children planned a story based on Little Red Riding Hood, created puppet characters and then told their story to an audience using the puppets. Thank you to the parents at home for recording them and sending them in. The puppet shows were so fantastic – we have been amazed by the design and effort that went into the productions! Well done everyone.
Hedgehogs Spring Week 4
This week started with a snow day. It was very exciting! We often do PE on a Monday so the children were asked to go outside and build a snow tower. How tall is your tower? Can you jump over it? They were then asked to complete a circuit of star jumps and running to make sure they stayed warm when they built their towers and snowmen. There was fabulous phonics learning and our maths topic was all about the number 8 and matching activities. Children have been working hard to subitise and recognise number patterns. Wellbeing Wednesday focused on Worry and asked the children to share any worries with Woebo. At the end of the week, children were asked to make a fairytale kingdom piece out of clay provided by school. We were very impressed!
Merry Christmas from Hedgehogs!
We wish you all a Merry Christmas and a Happy New Year from everyone in Hedgehogs class!!
Christmas Jumper Day 10th December
Today the children came dressed in their Christmas jumpers to raise money for FOBs.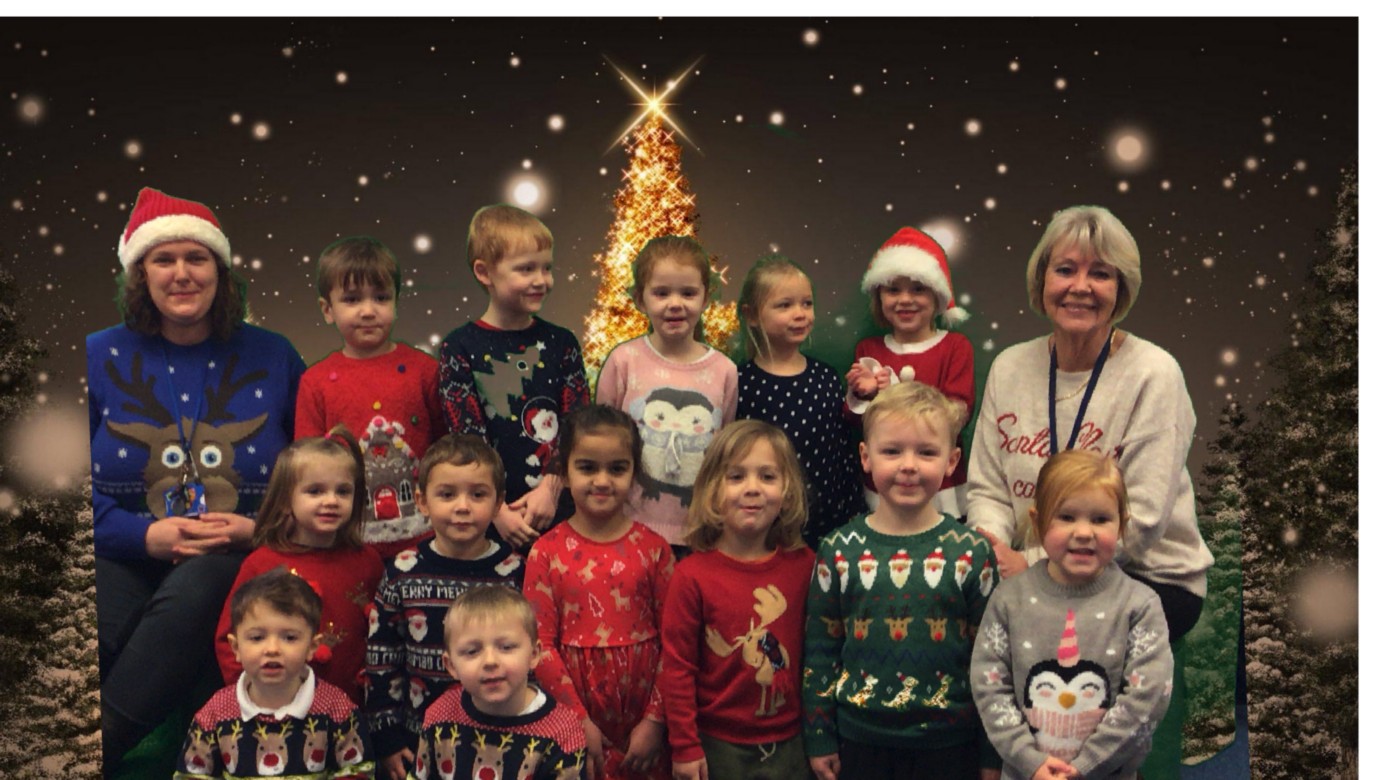 Christmas Dinner 10th December
It was our Christmas dinner today and the Christmas jumpers made it even more special! The children had lots of fun opening the crackers, wearing the party hats and eating their dinner or pack up. The hall and the school had Christmas make over last night so the children were able to walk around all day spotting the decorations which have gone up.
The Christmas Story
Today we read the Christmas Story and then organised the events as a class. All the children were give an event from the story and they had to decide if it was their picture that came next. When we had finished, I asked the children to tell me why we celebrate Christmas. They then drew a picture of Jesus in the manger in their books and wrote 'Jesus's birthday'.
Forest School Autumn Term 2
This half term, we have had a lot of fun in our Forest School sessions.
The children hunted for a specific set of sticks which then turned into a weaved Christmas tree.
We had our first lesson using tools. The children sat and listened to the safety talk and were able to use a small knife to whittle 'Santa Sticks'.
We went to the Mini Spinney in the pouring rain and made Hedgehog dens. The children had great fun using sticks to build a den against the trees, then cover it with leaves. They worked together brilliantly. When we returned to the classroom, the children wrote about their hedgehog dens.
We used the hand drills to drill holes in the Santa Sticks.
We painted the Santa Sticks in the Mini Spinney. It was so very cold but it definitely gave us a Christmassy feeling.
Learning about Tazaungdaing 24th November
This week, we have been learning about another festival of light, Tazaungdaing. This is a Buddhist celebration of the full moon and the end of the rainy season.
It is celebrated with extravagant firework displays, banquets and music. There is also a hot air balloon competition.
We made our own hot air balloon using papier-mâché.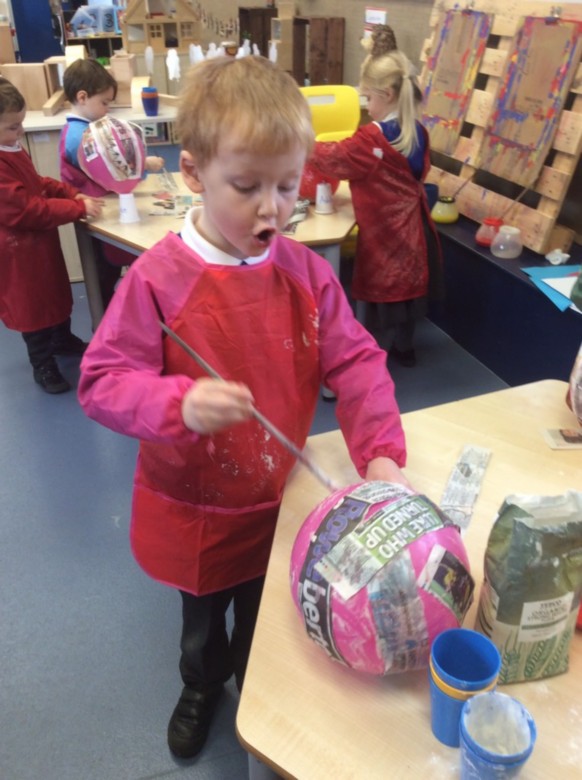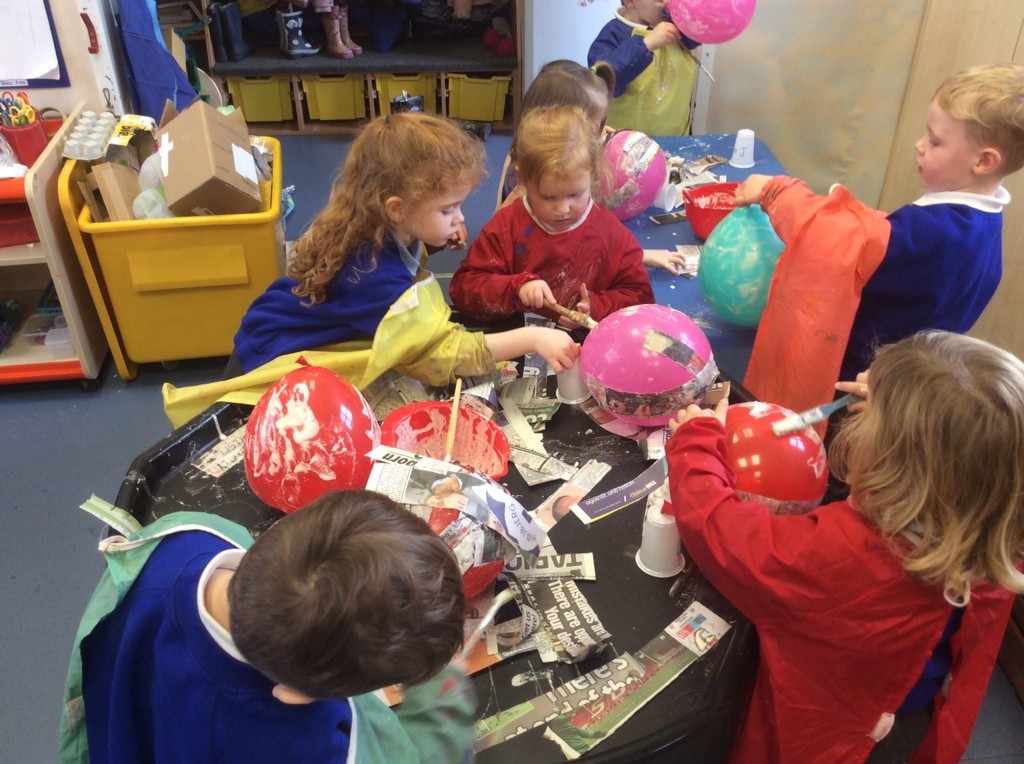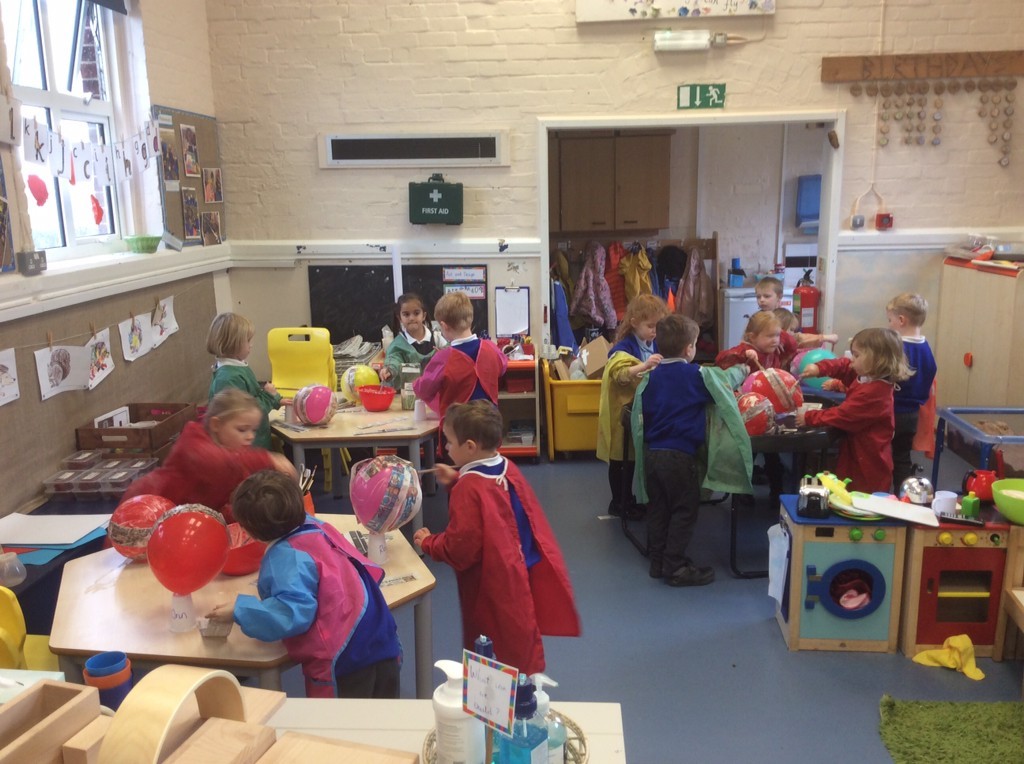 Learning about Diwali 18th November
This week we have been learning about the Hindu festival of light, Diwali. We have heard the story of Lakshmi, the Goddess of Prosperity, and coloured our own footprints to decorate the classroom. We have also made Diya lamps.
We painted our Diya lamps out, and they look lovely with the glitter on! We discussed choosing the right size brush, and how we need to choose the correct colours and we mixed paint together to make orange, green and purple.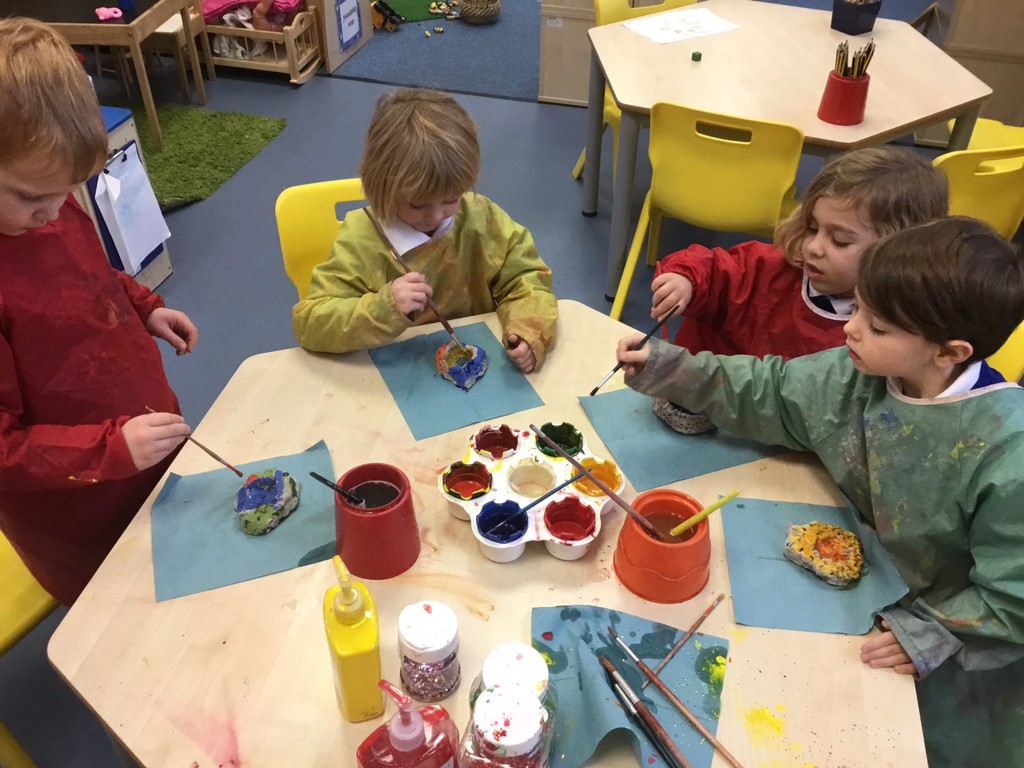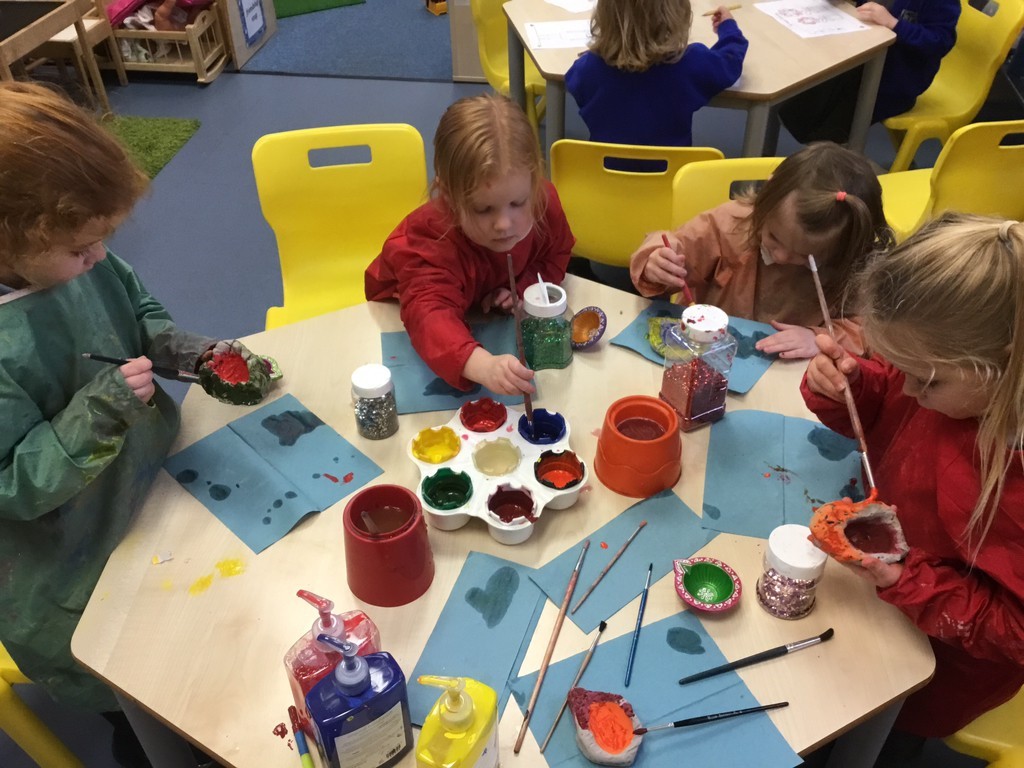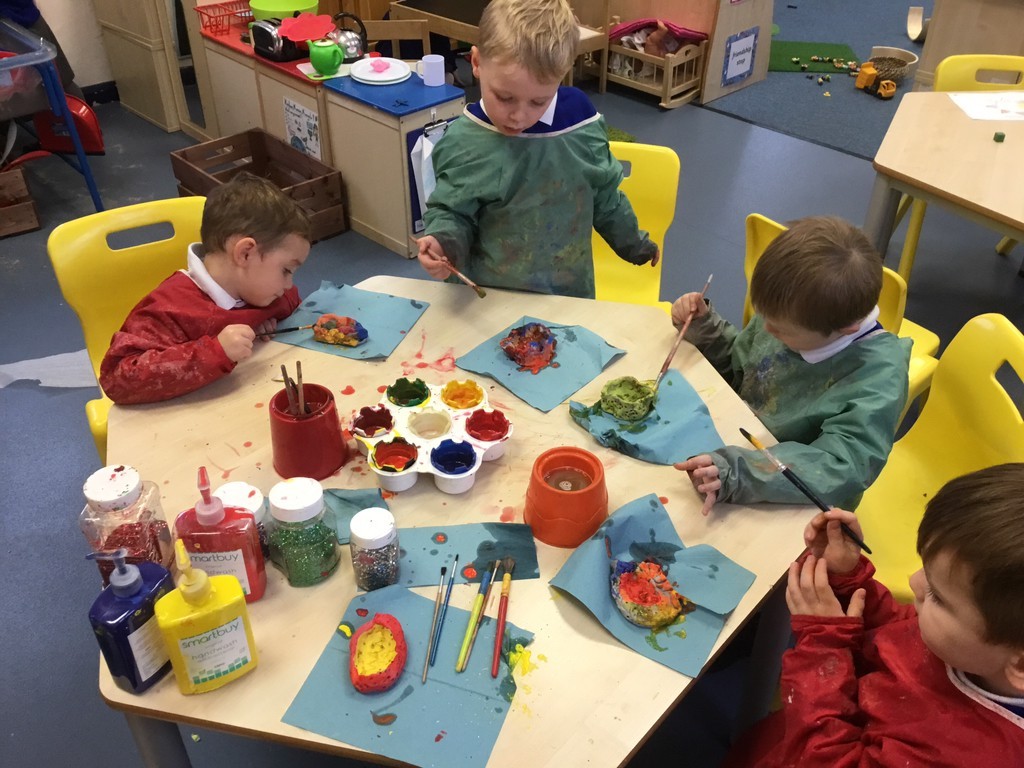 Friendship Tokens
The children used salt dough to make friendship tokens. First of all, we talked about the ingredients needed to be a good friend and mixed the friendship ingredients to make the dough. The children chose different cutters and worked hard to make different shape and size tokens. Once these were dry, the children painted them different colours. They had to try to do it without getting paint on the bottom - it was a bit tricky but they all managed it.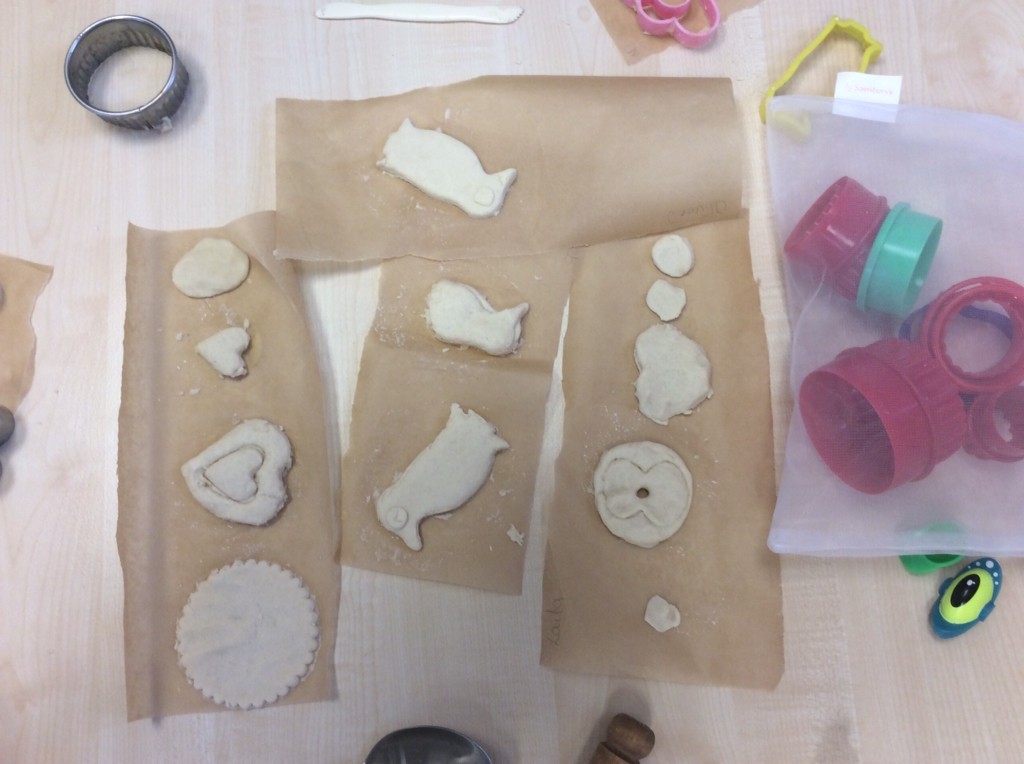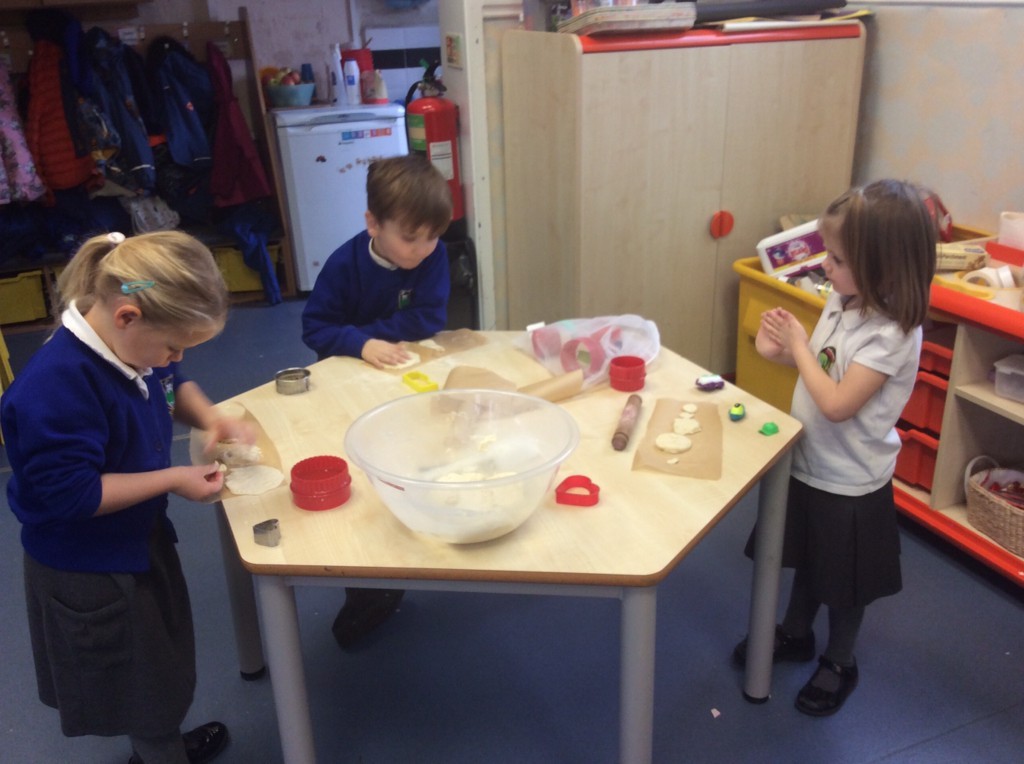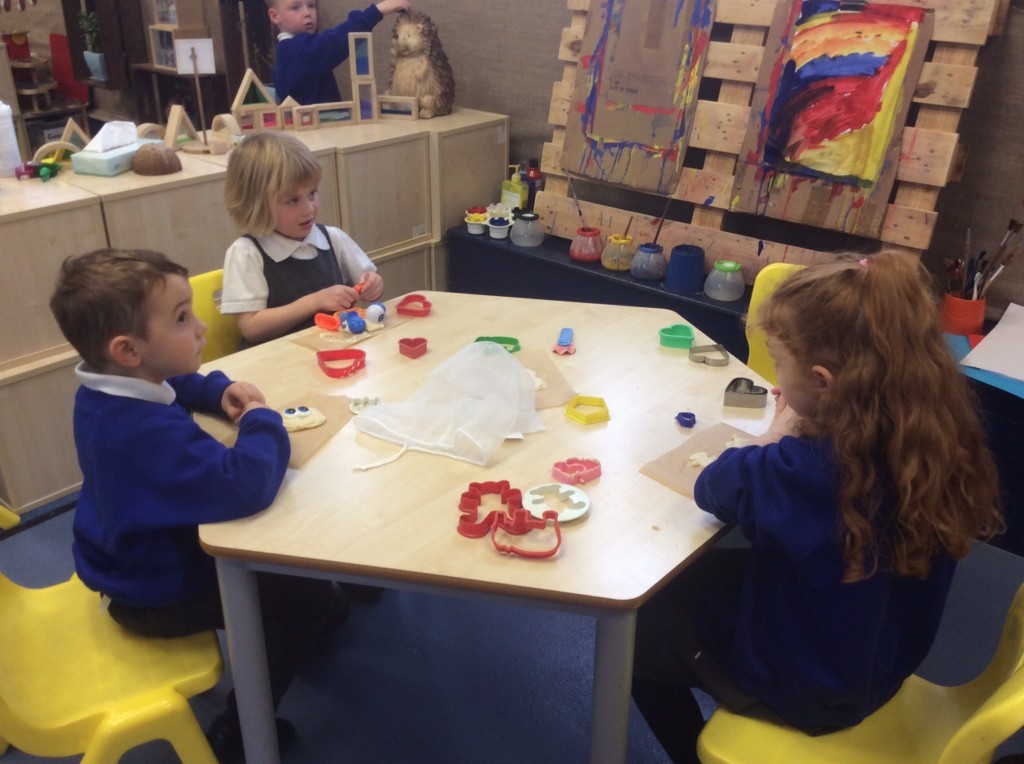 New Term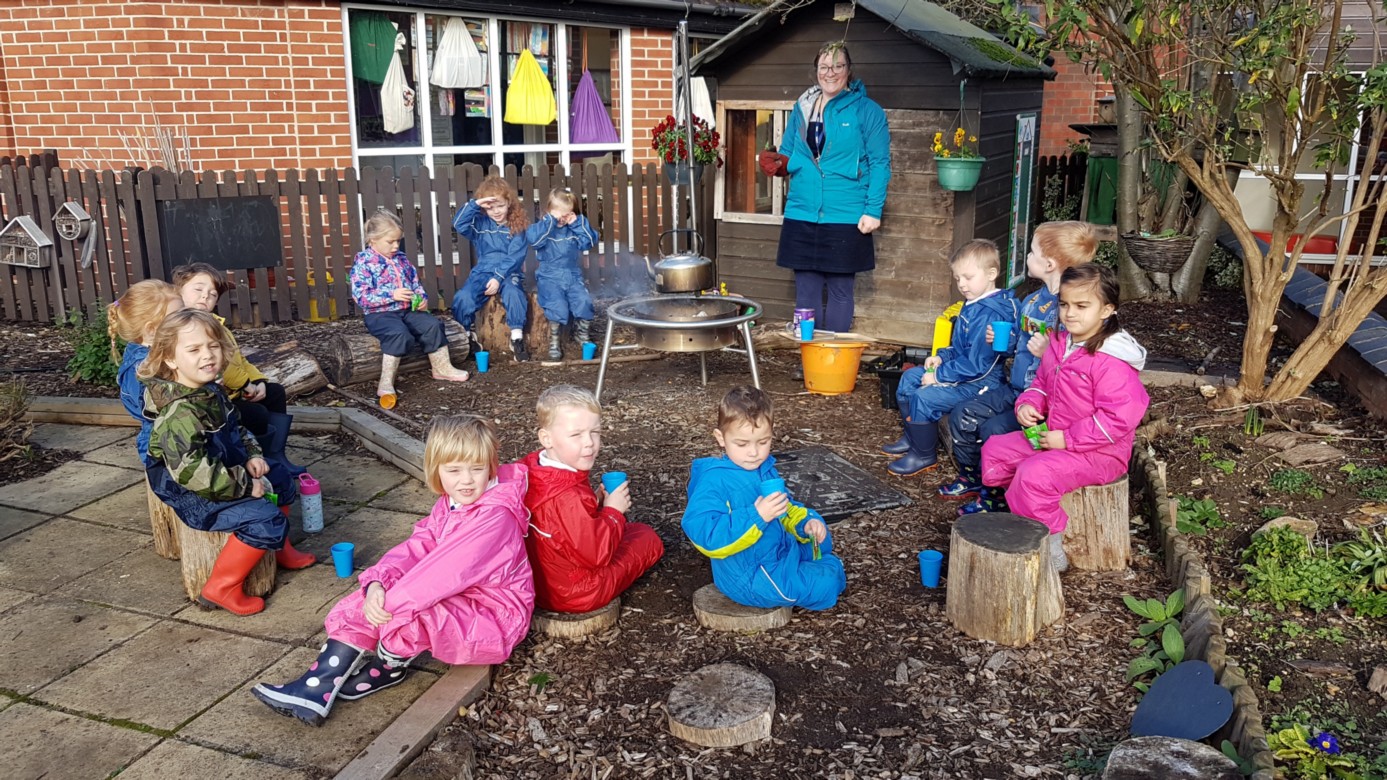 We started the new term with a cup of hot chocolate around the fire. This morning, we went leaf-collecting so that we can make leaf bowls when they have been dried and pressed.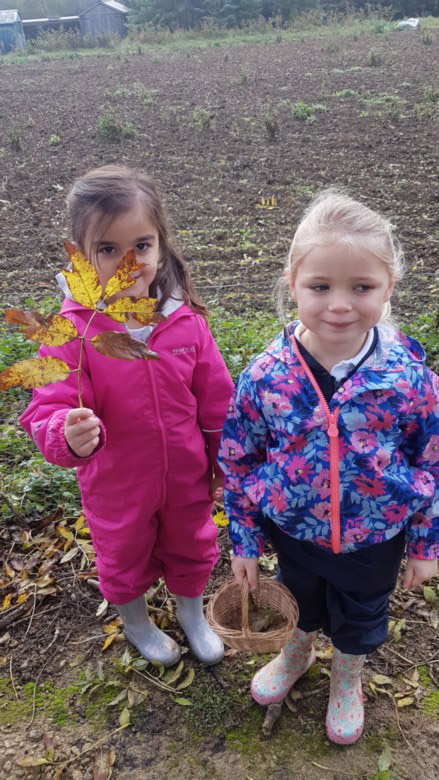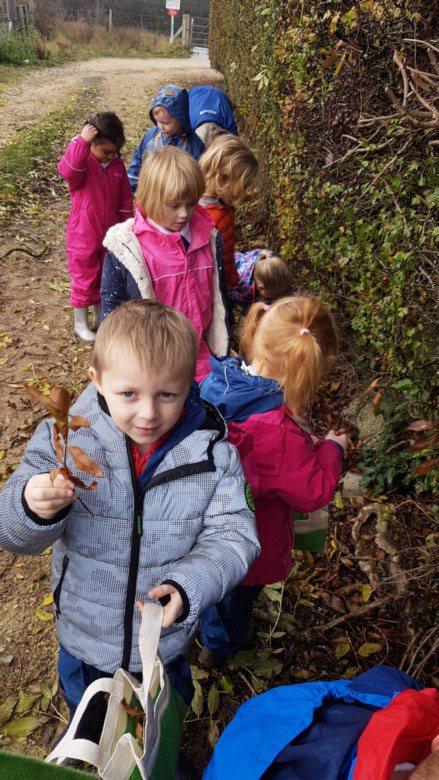 Show Racism the Red Card 23 October
On the last day of term, all pupils dressed in red to support "Show Racism the Red Card" campaign.
The Little Red Hen 25th September
This week we are looking at the story, The Little Red Hen. After listening to the story, we looked at the tuff spot which had wheat stalks, soil, wheat, flour and items to explore and make pretend bread. They worked very well planting the wheat, grinding the grain with the rocks to make flour and then added water to make bread.
Oliver did really well and spent ages looking at this activity, he was able to say wheat went into a combine and used the rocks to smash the wheat.
We then brought a wheat grinder in and the children got a chance to place the wheat in the grinder and turn it into flour. They loved doing this and enjoyed playing with the ground flour.
The children were so keen we made bread and cooked it on the fire. Firstly, the children helped make the fire, following the safety rules of one knee up, one knee down, and using fire gloves when placing stick on a fire, we got it lit. They then worked with Mrs Foster to make bread in a bag. We did not need all of the dough so the children wanted to bring it home to cook. Once the fire was ready the bread was wrapped around a stick and cooked over the fire. It was then eaten with jam or butter. A yummy treat indeed!
Autumn Walk 18th September
Today we went on an Autumn Walk where children were able to go and discover how the environment around them is changing. We walked safely down to the Big Spinney spotting signs of Autumn as we went on our spotter sheet. We saw pines cones and conkers on the floor before we even got there! The children then had baskets to go and collect what they found. The loved this and eagerly went hunting and exploring the Spinney. We will go again soon where we will look how it is changing as the leaves were only just starting to change colour.
Forest School 11th September
Our Forest School's topic this term is all about fire so the children had the treat of toasting marshmallows and had hot chocolate made from water which was boiled over the fire. We will be building on these skills over the term, eventually they will build their own fire and decide what food to cook, yummy!
Welcome to our new children 9th September
We have welcomed the new reception children into Hedgehogs class, and what a fantastic start they have already had! They have settled into school life extremely well, they are polite and well mannered and very keen to learn. Lot of hard work was put into the classroom over the summer, so they children were very excited and keen to explore the areas which are centred around promoting a love of learning from an early age.
They have already begun mark making in the sand, white board and painting. They have enjoyed the home corner, and playing shops so hope we develop these areas following on for their interests. One afternoon, we created a huge pirate ship out of the large construction and pretended to be pirates outside which included throwing water over the ship! We have threaded rope on our new activity wall which promotes their motor skills and planted new plants in our garden to watch them grow.